I want to wrap up our discussion of heart attacks by addressing the question in the title. Patients often assume that people who collapse suddenly and need CPR—what we term cardiac arrest—have had a heart attack. But the two entities are not the same thing. While it is true that a person who is having a heart attack can have a cardiac arrest as a complication of the heart attack, this is just one of several causes of cardiac arrest. These include:
Arrhythmia of the heart: ventricular tachycardia or ventricular fibrillation

Caused by a primary electrical abnormality in the heart
Caused by a heart attack
Caused by having a cardiomyopathy

Pulmonary embolism (a clot in the lungs)
Sudden loss of blood, like rupture of an aneurysm
Overwhelming medical illness, like sepsis (bloodstream infection)
Below is a graphic that nicely summarizes the major differences between heart attack and cardiac arrest: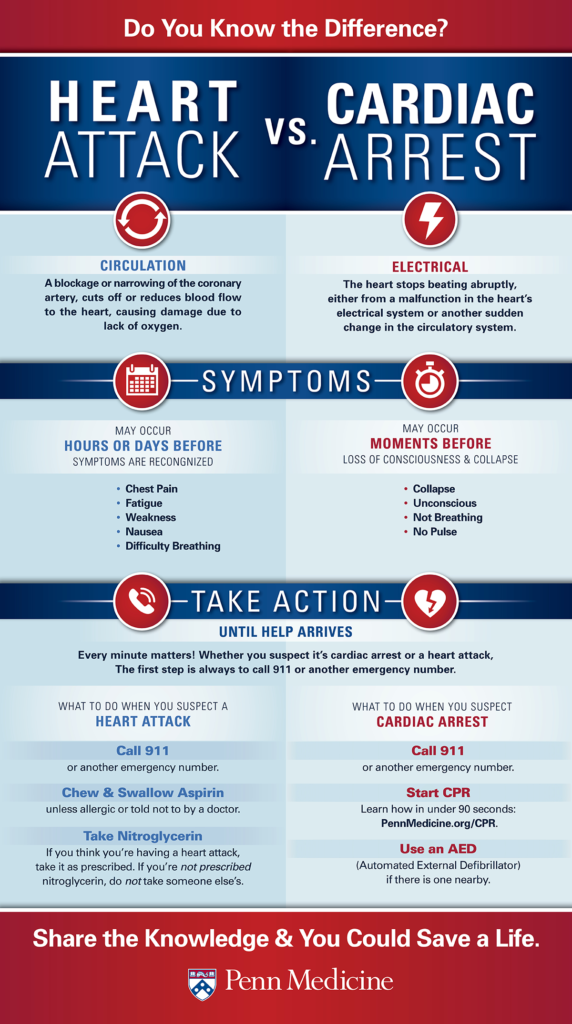 These are both scary occurrences and equally critical to treat quickly. But it is important to understand the difference so that a proper evaluation of the cause can take place with the goal of preventing these events in the future.
Greg Koshkarian, MD, FACC